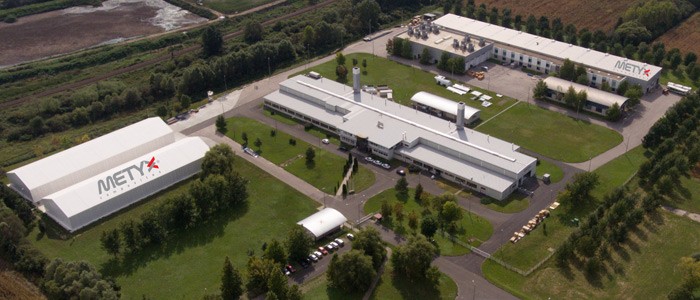 METYX Expands Warehousing Facilities in Hungary  
The METYX Hungary factory, located in Kaposvár, has recently expanded its warehousing facilities, adding an additional 3,024 sq. m (32,550 sq. ft) of fully enclosed storage space for composite technical fabrics, packaging and FRP tooling. The extended warehouse has two dedicated areas.
One section has racking for up to 1,300 tonnes of additional METYX technical fabrics stock, including E-glass, carbon and hybrid multiaxial and woven reinforcements. The other section of the new warehouse has been equipped to store and handle large-scale FRP master plugs, molds and components produced by the METYX Group, typically for wind energy, marine, building and transportation customers in the EU, providing consolidated deliveries of reinforcements, cores, kits, vacuum consumables, tooling and composite components ordered.
This latest expansion is part of the METYX Group's five year growth plan for the Kaposvár site, announced back in February of this year, when the company secured a multimillion Euro 50% matched funded incentive package from the Hungarian Government's Investment Promotion Agency (HIPA).  Mr. Uğur Üstünel, Co-Director of METYX Group stated: "We are very pleased to be on track with the next expansion phase of our operations in Kaposvár, meeting our commitments to the Hungarian government. Expanding the warehousing space before adding further production capacity in METYX Hungary was essential to ensure that we can continue to provide a high quality logistics and delivery service to our growing customer base across Europe."
METYX Hungary currently employs 199 people with six NCF (non-crimp fabric) production lines for both glass and carbon reinforcement fabrics.  Over the next five years, the combined METYX Group and HIPA investment funds will be used to further extend the production facilities and infrastructure of the Kaposvár site. Future investment plans include increasing production capacity for producing glass and carbon fiber textiles, adding new NCF and weaving machines, as well as expanding the core kitting and component manufacture services from Hungary. The technical fabrics and kits manufactured by METYX Hungary are aimed at producers of composite parts used in major industrial market sectors including: building and construction, boatbuilding, automotive, transportation and wind energy; the ISO 9001 accredited Kaposvár site has completed intensive supply chain qualification programs with key wind turbine manufacturers.
METYX Group is a manufacturer of high-performance technical textiles including: multiaxial reinforcements, carbon reinforcements, RTM reinforcements, woven reinforcements, and vacuum bagging products. To complement its product portfolio, METYX also offers extensive consulting services and technical training, as well as composite tool making, component manufacture and kitting services for cores, fabric and vacuum consumables.
METYX has an extensive distributor network throughout the world.