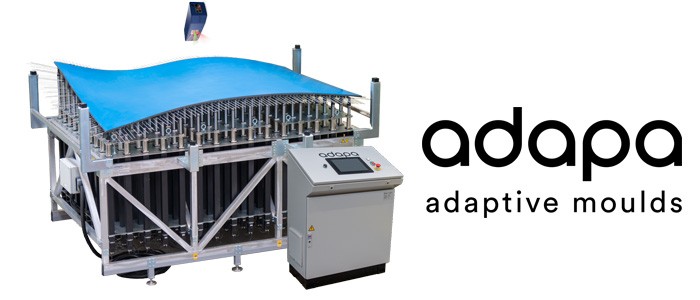 METYX USA Inc. is proud to announce to be the exclusive dealer of ADAPA A/S – Adaptive Moulds in USA for the composite industry!
Adapa, the worlds leading supplier of intelligent reconfigurable moulds for curved surfaces,  is specialized in mechanical innovation and computer aided manufacturing with a focus to facilitate modern curved aesthetics by enabling a cost effective and environmentally friendly production environment.
The inspiration behind Adapa was the curved and organic shaped architecture, that many an architect reach for in the idea and design phase of a project. As the construction starts to be structured in relation to present dominant building systems, to drive down the cost of the architect's unique idea, away goes the curved design. It was exactly this problem and the desire for enabling unique curved designs at the same cost as flat, that engage and commit the people in and around Adapa.
The adaptive moulds enable manufacturing companies to produce low-repetition curved designs faster, affordably, and more sustainable than alternative technologies.  METYX USA will market Adapa's patented reconfigurable mould technology towards fabricators of composites and support the architects and consultants involved in creating curved designs and architecture in USA.
CEO of METYX Group Mr. Ugur Ustunel says "We are excited to be working with Adapa A/S in US region. With many years of experience in composite industry, we know how to provide the best solution to meet our customers needs and demands at affordable costs."
CEO of Adapa A/S Mr. Claus Lokke says "The composite industry is rapidly growing, and we find METYX as dealer of our adaptive mould technology the optimal partner in supporting the market with a combined material and manufacturing technology knowledge."
Adapa have a strong position in Europe, serviced by the headquarter in Denmark and in the Middle East, serviced by our subsidiary company in Dubai, UAE. Now with METYX USA, they will be serving to North America composites market.
For furher details please click here