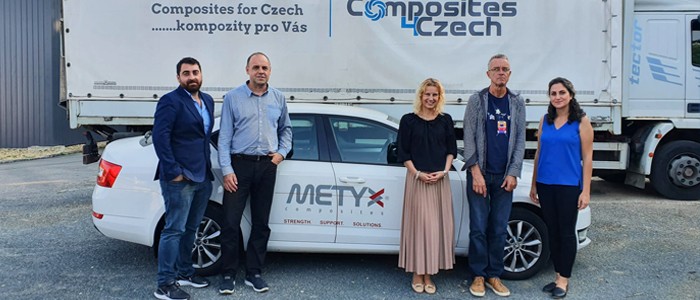 Composites for Czech s.r.o. will sell METYX products in Czech Republic
 METYX Composites has extended its global network, appointing Composites for Czech s.r.o. as its distributor for Czech Republic to improve the access, supply chain service and local technical support for composites manufacturers in the area. The complete product range of glass, carbon and aramid fibre based specialty reinforcement fabrics are all manufactured by METYX at its production facilities located in Turkey, Hungary and USA.
Composites for Czech s.r.o. will be stocking and providing technical support for the full range of METYCORE, METYCORE FS (Fire Shield), METYCORE MAX and METYCORE MAX FS (Fire Shield) RTM glass reinforcement fabrics, along with other products from the METYX Composites range including E-glass, carbon fiber and hybrid multiaxial and woven fabric reinforcements, and non-woven surface veils. Stocks will be held in line with local customer demand to ensure a fast and reliable supply service. Customers of the distributor will now also be able to benefit from added value core and fabric kitting and tool making services also offered by METYX Composites.
Composites for Czech s.r.o. focuses on the use of quality materials, reasonable prices and perfect customer service. They fulfil the requirements of standard ISO 9001:2008, and are also certified by the Certification Body for Certification of the Management System. They are involved in the system of associated fulfilment Eko-kom. So for Composites for Czech s.r.o, being appointed to distribute the range of METYX reinforcements is a perfect supply partner fit. Petra Lorenncová, Director of Composites for Czech s.r.o. explains: "METYCORE RTM reinforcements range of METYX, along with the other excellent, high performance technical fabrics available, fit perfectly with our customer needs. We are very excited to now be working with METYX which is known as a high quality reinforcement fabrics supplier as well as innovative, added value moulding solutions."
"We are delighted to be working with Composites for Czech s.r.o.  for Czech Republic region." comments Bahattin Şendoğan, Sales Director (Europe), and continues: "We are both committed to providing exceptional customer service and technical expertise, as well as quality, so I believe the composite industry in the area will benefit perfectly from this collaboration."
The METYX Composites range of technical fabrics for moulding composite parts combine higher mechanical performance application requirements with key processing benefits to meet the high productivity needs of manufactures in the automotive, transportation, marine, rail, and wind energy markets.