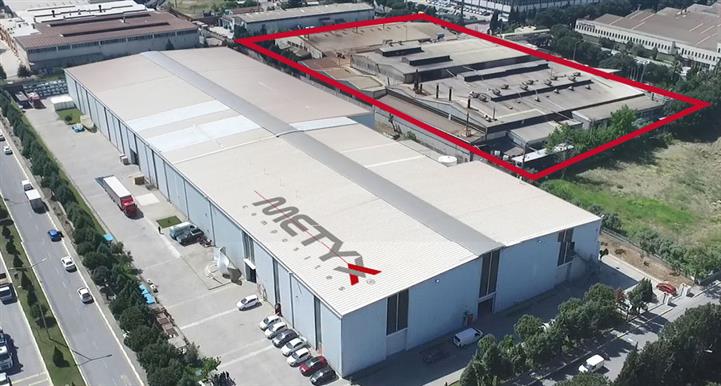 METYX Composites Doubles Production Site in Turkey
METYX Composites, a division of textiles company Telateks A.S., is in the process of doubling its production facilities at its main manufacturing centre in Manisa, Turkey.  Land and buildings adjacent to the existing factory in the Manisa Industrial Zone became available earlier this year, which Telateks recently acquired. The existing factory is being linked to the newly acquired site, which combined provides a total of 2.3 hectares (23,000 sq. m) of production and warehousing space. The expanded site is almost twice the size of the current factory, providing METYX with the space to not only double weaving capacity for glass and carbon fibre multiaxial fabrics, but to also add more tooling and kitting capacity.
The new site is planned to be fully operational later this year, with additional staff being recruited. The expanded METYX factory will include additional new production lines for both glass and carbon fibre multiaxial fabrics and new CNC machining centres for composite plug and mould making. To meet increasing demand, especially from the wind energy sector locally, the existing kitting services at Manisa are also being further expanded; at both Manisa and the METYX Composites factory in Hungary a full kitting service is provided, supplying customers with 'make to order' kits for core material, glass and carbon fibre reinforcements and vacuum consumables, not only for wind energy, but also for marine, automotive, and other industrial applications.
Additional new warehousing facilities are also being constructed at Manisa to further improve stock holding and distribution services from the main production site, which serves customers nationally across Turkey, and also supplies a growing number of METYX Composites export customers.
"We have seen rapid growth in the Wind Industry in the Aegean Region since 2011 and our local factory and capacity has grown to meet the needs of our customers.  We also see new developments regionally in other key composites sectors, which are expected to further fuel our growth in the region, where METYX has become a key supplier." stated Bahattin Şendoğan, Marketing and Sales Manager, METYX Composites.
This latest investment in the expansion of METYX Composites is part of an ongoing five-year programme of key strategic investments in high-end production facilities for technical textiles and composites-related products made by Telateks since 2011, when construction of the original factory in Manisa started. Much has been achieved since then, with more planned for the future. Ugur Üstünel, managing partner of METYX Composites explained: "When the Manisa factory started production in 2012, we already had in mind a desire to expand the site further when the market timing was right. We think that this new investment decision to expand our Manisa site has been taken at the right time, and will enable us to better support the growing needs of our customers. Looking to the immediate future and longer term, we will be doubling production capacity by 2018, and look forward in the coming years to working closely with all of our existing customers, as well as new customers in the Aegean region."