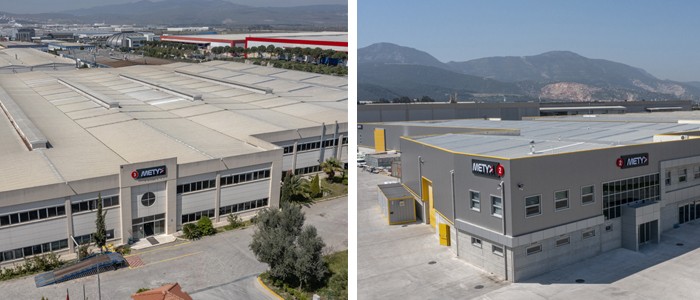 METYX added 16.000 m2 of covered manufacturing space to its Manisa campus
In the last few months, METYX Manisa campus has grown with two additional campuses added to existing facilities. Two facilities, 10 000 m2 and 6 000 m2 respectively, will enable the company to grow its capacity and increase service levels to the local and European customer base.
METYX is in the process of expanding its production facilities in Manisa, Turkey. METYX began manufacturing technical textiles and composites-related products in the Manisa Industrial Zone in 2012 with a 12,500 m2 (134,550 square foot) factory. In 2016, by acquiring the land and buildings adjacent to the existing factory, the company expanded its site to 2.3 hectares (23,000 m2), providing METYX the space to not only double production capacity for glass and carbon fibre multiaxial fabrics, but to also add more tooling and kitting capacity.
A few months earlier, again in the Manisa Industrial Zone, METYX began operations of an additional new warehousing facility approximately 13.000 m2 with 10.000 m2 covered space to further improve stock holding and distribution services. At this facility we support customers nationally across Turkey and supply a growing number of export customers.
As the company has grown rapidly in recent years, METYX's four factories in Turkey, Hungary, and USA, have not been enough to fulfil demand for the new products and services offered. Company leadership found a new site in the Manisa Industrial Zone allowing an increase in tooling and prototyping production capabilities, adding approximately 16.000 m2 open and 6.000 m2 closed area of space.
METYX now begins recruiting additional staff now and plans to be fully operational later this year. This new site will continue to serve the composite industry and strengthen the company position as a key supplier in the market.
This latest investment in the expansion of METYX is part of an ongoing key strategic investments in high-end production facilities for technical textiles and composites-related products. Ugur Üstünel, METYX CEO, explained: "The commitment to our loyal customer base is what drives all the decisions we make. As we expand our business, we will be helping our customers grow their businesses as well, through our strengthened portfolio of products, improved logistics, and even more comprehensive services and support. We are grateful to our customers, partners, and distributors for our continued growth, and we look forward to working together as we execute our vision."